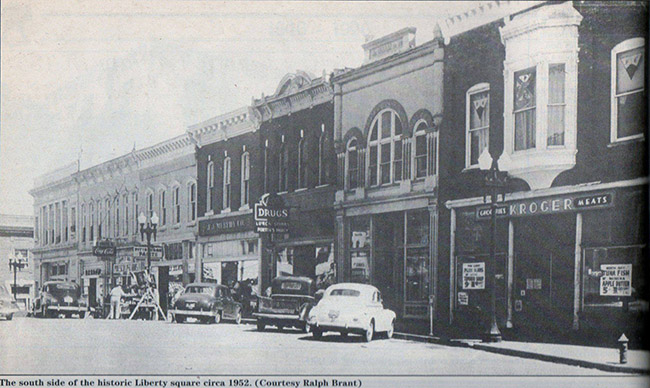 The new entertainment venue at 1 East Kansas on the Historic Liberty Square has been named "Restoration 1894."
Although construction of the current building began in that year, the site actually goes back to the very start of Liberty in 1822.
The location was part of 25 acres donated to Clay County for building the original county seat, which remains today.
Early tenants at 1 East Kansas included the Messick Hotel and the Manheim Goldman Clothing store on the ground floor. A fire in 1893 brought an end to the hotel-store. The current structure was built in 1894 by Thomas J. Slaughter and operated as Jesse Slaughter Dry Goods and the second story built by the Knights of Pythias which was accessed by the existing iron staircase on Main Street.
The second floor was sold to the Pythian Sisters in the mid 1900's. The building became known as "Castle Hall" due to the ornamental detail atop the building at that time. The upper floor did see continued use, however. Many people remember attending dances and other events in Castle Hall during the 1950s and 60s.
Through the years the main floor has been home to many businesses. Including:
Slaughter Dry Goods followed by a second dry goods store,
S. D. Church & Sons Furniture and Undertaking (the painted name which can stillbe seen on the Main Street brick wall)It later became Church & Stephens Furniture & Undertaking
Safeway Grocery Store
JJ Murphy's Dime Store
In more recent years, people may remember Mattingly's Variety Store, Woody's Appliances, an Antique Mall and The Gift Shop.
We continue the long tradition at 1 E Kansas by restoring the exterior similar to its original appearance and becoming home to new Liberty businesses and Restoration 1894 event venue.